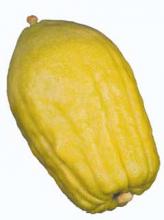 Rabbi Cohn has advised that he will be responsible for the distribution of Esrogim in the UK under the umbrella of "Otzer Beis Din" controlled by the Beis Din of Rabbi Nissan Karelitz, similar to the arrangements seven years ago.
There will be three grades of Esrog available.
Projected prices will be:
Grade A - £18
Grade B - £12
Grade C - £8.
Orders need to be placed this week - please take a look at the attached flyer for more details.