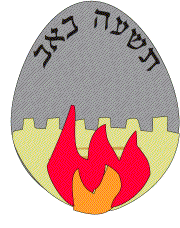 If Tisha B'Av remains a fast this year, our programme of events will be:
4pm: Insights into Eichah - Gershon Hepner will give an explanatory Shiur based on the Commentators (Men and women, in Shul)
4.40pm: Faith and Commitment of Holocaust survivors. A second video by Aish UK features interviews with Survivors, telling their stories. (Men and women, parental guidance may be required for younger children, in Beis Hamidrash Toras Haim)
5.30pm: Inspirational Documentary Film: In the Sewers of Lvov: A Heroic Story of Survival from the Holocaust (Men and women, in Beis Hamidrash Toras Haim). In German-occupied Poland, a group of resourceful Jews found the perfect place to hide from the Nazis, and avoid the mass executions in May of 1943. Enduring hunger, rats, thirst, dysentery, and incredible psychological pressure, they hid for nearly two years in the sewer system beneath the city of Lvov.
Alternative programme - 4.40pm-6.30pm: 5776 Chofetz Chaim Heritage Foundation Tisha B'Av audio-visual presentation with Rabbi Warren Goldstein, Rabbi Yitzchak Dovid Grossman, and Rabbi YY Jacobsen. Shiur room (men and women).
6.45pm: Tisha B'Av Shiur, with Rabbi Cohn: (in Shul, women downstairs on the left, men downstairs on the right)
7.40pm: Minchah (Tallis & Tefillin 7.35pm)
8.45-9pm: Closing Thoughts on Tisha B'Av, with R' Sholom Segal, immediately after Maariv, bim'kom his Daily Shiur (in Shul).
Fast ends 9.11pm