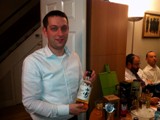 The 5th Annual Whisky tasting took place on Motzei Shabbos, 10th March 2012 and was enjoyed by 24 attendees, led by our local whisky enthusiast (a nice word for addict), Daniel Ehreich.  Kugel was served by our local kugel server who would prefer not to be named, and cocktails expertly prepared and presented by the preeminent Josh Riffkin.
We discovered a few of the many factors that influence the flavour and character of whisky. We expanded our geographical coverage by venturing into Japanese whiskies, and we also enjoyed a foray into grain whiskies with a Sazerac Rye.  We explored the ways in which the wood influence changes according to the size of the barrel by comparing the Yamazaki Puncheon to the Springbank Rudlets & Kilderkins, and we discovered a promising new Campeltown whisky in the Kilkerran, bottled at Glengyle distillery.
To complement these flavours we sampled kugels from two different regions of Hendon, and much gratitude was extended to the kugel sponsors.
The evening was completed with an auction conducted by our mildly sober auctioneer Mr D Greenberg, with assitance from his gavel.  Thanks to all those who contributed and helped to raise a significant sum of money for the shul.
The full line up was as follows:
- Glenrothes Alba Reserve
- Yamazki Puncheon
- Sazerac Rye (New York Tiger Cocktail)
- Springbank Rundlets & Kilderkins
- Kilkerrran Work in Progress 3
- Talisker 10 (Rusty Nail Cocktail)